Tony was sworn in a the MEPS center in Columbus, Ohio on Tuesday March 13, 2001. From there it was a long day of waiting for all the paper work to be complete and getting to the airport.

Pictures at the MEPS center
Tony shipped off at 4:07pm on a flight to Oklahoma City, Oklahoma. He then was transported to
Fort Sill, Oklahoma
. He was in the reception area from Tuesday night to the following Monday afternoon. In reception they are doing final paper work, shots, physicals that include dentist, vision and hearing exams. The
Fort Sill Webcam
is something we have added to our desktops, it makes us feel a little closer to him to be able to see activity and the weather.

Pictures at the Airport in Columbus
On Monday, March 19, he was shipped across the tracks to the Army Training Center (basic, boot camp etc). Tony is with the
1st Battalion, 22d Field Artillery, Bravo Battery - 4th Platoon - Vipers
. He will be graduating from basic on May 24th, 2001 at 2:30pm.
Next he will stay with the battalion he is with to go on to Field Artillery Training Center to become a
Fire Support Specialist
. He will be in this training for about 8 weeks. Graduating somewhere the end of July.
He then heads to
Fort Benning, Georgia
for jump school for three weeks, at which time he will get his
Airborne
wings. The ceremony here is he jumps out of a plane *gulp* and when he lands, they pin his wings on him. Of course family members are welcome to witness this or keep their hands over their eyes like I will. Finally mid to late August, he gets to come home and work in the recruiting station here in Eastgate with his recruiting officer Staff Sergeant William J. Lane for 20 days, then a 10 day leave. All and all he will be home for about 30 days.
---
For Tony,
We are so very proud of you!
We love you and miss you.
Love Mom and Dad
---
GO ARMY!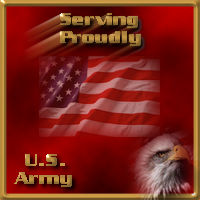 *This page and others will be updated as we find out more information.