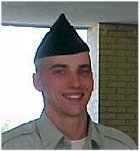 Charlie Battery
2d Battalion
80th Field Artillery
Rock Hard FISTers
Graduation - July 18, 2001
Tony graduated as
Distinquished Honor Graduate
of Class 26-01. He was first in line for graduation, presented the guest speaker with a plaque of appreciation, participated in the reciting of the seven Army Values and lead the class in the Soldiers Creed.
Soldier's Creed

I am an American Soldier. I am a member of the United States Army -- a protector of the greatest nation on earth. Because I am proud of the uniform I wear, I will always act in ways creditable to the military service and the nation it is sworn to guard.

I am proud of my own organization. I will do all I can to make it the finest unit in the Army. I will be loyal to those under whom I serve. I will do my full part to carry out orders and instructions given to me or my unit.

As a soldier, I realize that I am a member of a time-honored profession--that I am doing my share to keep alive the principles of freedom for which my country stands. No matter what the situation I am in, I will never do anything, for pleasure, profit, or personal safety, which will disgrace my uniform, my unit, or my country. I will use every means I have, even beyond the line of duty, to restrain my Army comrades from actions disgraceful to themselves and to the uniform.

I am proud of my country and its flag. I will try to make the people of this nation proud of the service I represent, for I am an American Soldier.
The pictures below are from the graduation. On the drill pad, where the soldiers have formation and where you can meet them for their passes. Some are from the hotel we stayed at. If you click on a picture, it will open to a larger one.
The following are group pictures of Class 26-01 2nd-80th Charlie Battery
Clicking on picture will open it to full size.